Skansen is an open air museum in Stockholm with old houses and barns. Last Saturday, 30 September 2000, our family made a visit to the Autumn Fair at Skansen on the meadow at the Scanian farmstead (Skånegården).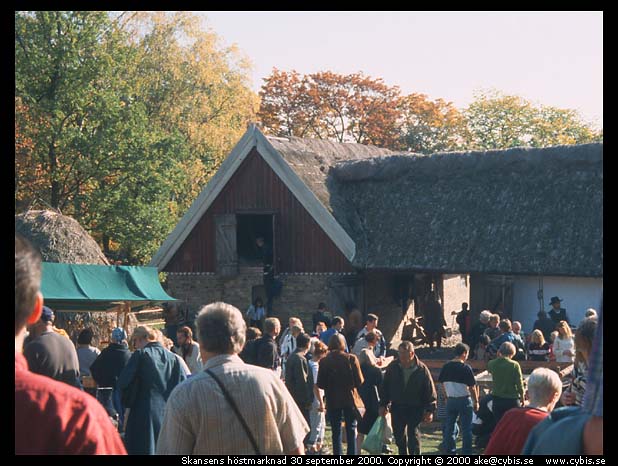 There was a brisk trade around the booths where you could buy the same things which were sold at a fair 100 years ago: buns and cakes, jam, fruit-syrup, greens, arts and crafts and some domestic industrial products of that time.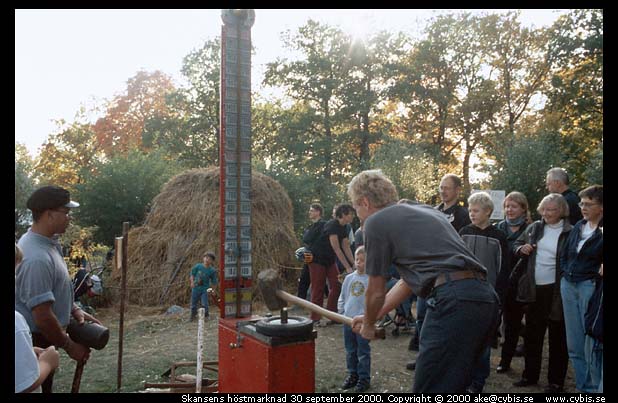 How hard can you hit that globe?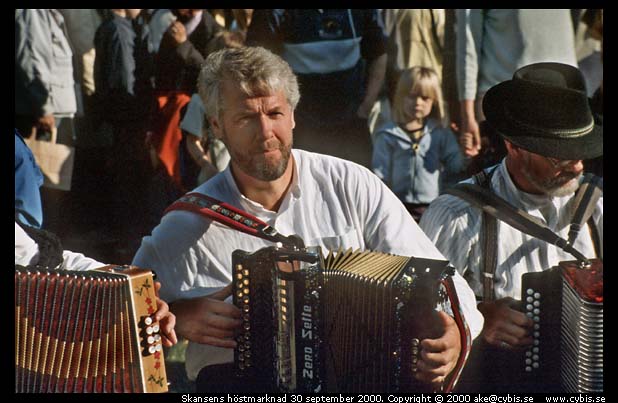 The folk musicians orchestra played tunes I heard my grandfather play. Tunes I never hit on the radio. Are they available on a CD may be?

Now, I know: This is the group "Wermdö Durspelare" - should I try to translate it to "Wermdö major (ac)chord(ion) players"?
Visit their internet site! Anyhow, here you can listen to their music and visit their site on the internet, you will also find them on YouTube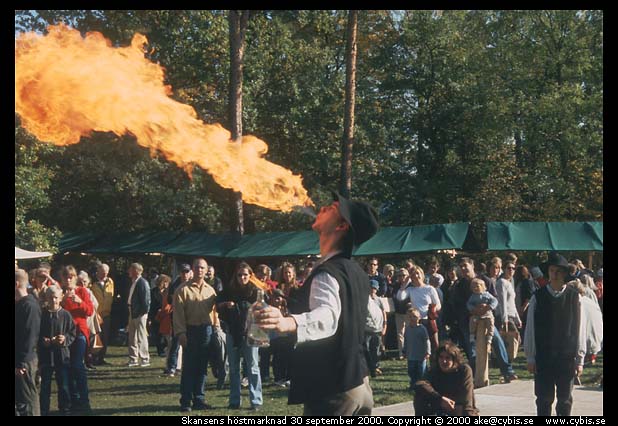 A fire-eater demonstrated his skill.
Would you like freshly fried perch fillet or pickled herring with creamed potatoes?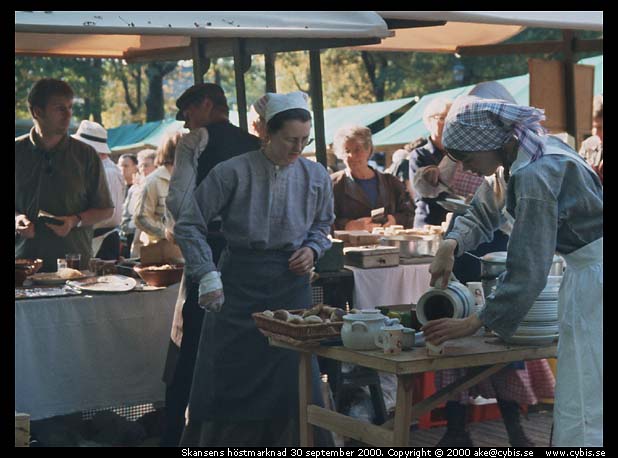 All staff and many visitors were dressed as a century ago.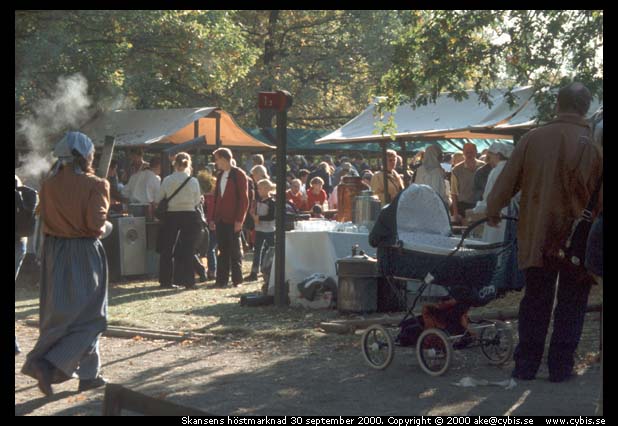 The smoke from the firewood blended with the smell of fried fish.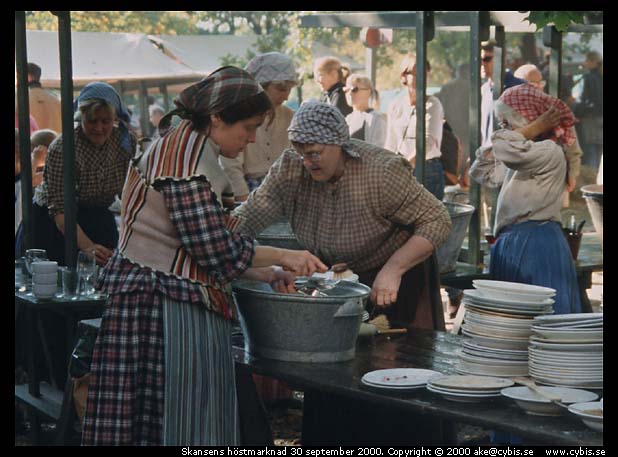 Disposables are taboo. But if food is served up on crockery, then someone has to wash up - with the same utensils as formerly!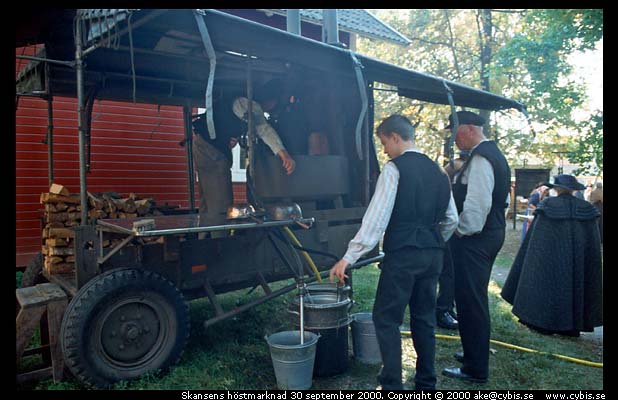 Hot water comes from a discarded field kitchen from the national defence. The machine makes steam for heating.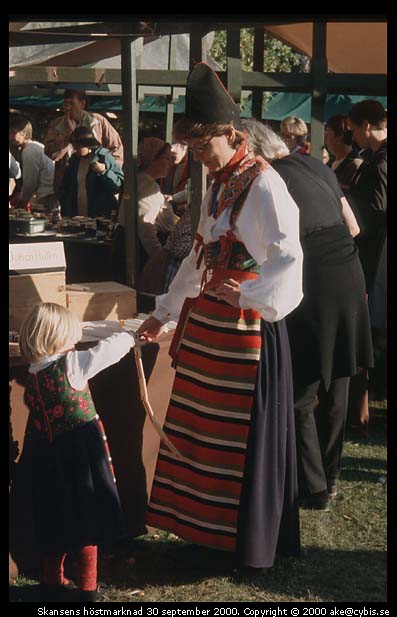 Only a few visitors wore a folk costume. This one comes from Rättvik in Dalecarlia (Dalarna). It is said that it was common here a century ago when many Dalecarlian women had a seasonal work in Stockholm.
The Skansen fair is also a place where you are entertained with "spontaneous" theater. This is a prankster on the go. I also saw him in a very loud quarrel with a woman who had been cheated by him in some way. Of course, all of it just for entertainment!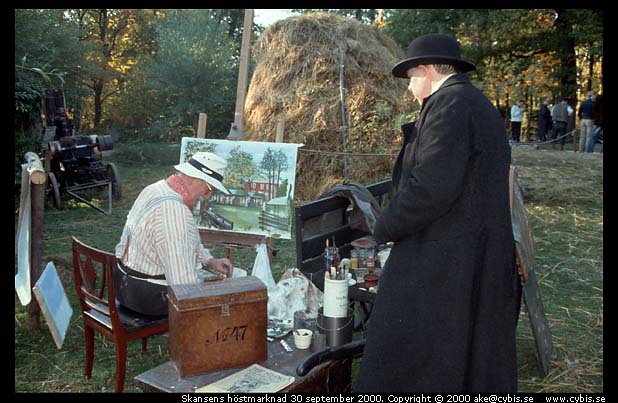 An artist shows the old art of farmstead painting (how to get your mansion on a painting).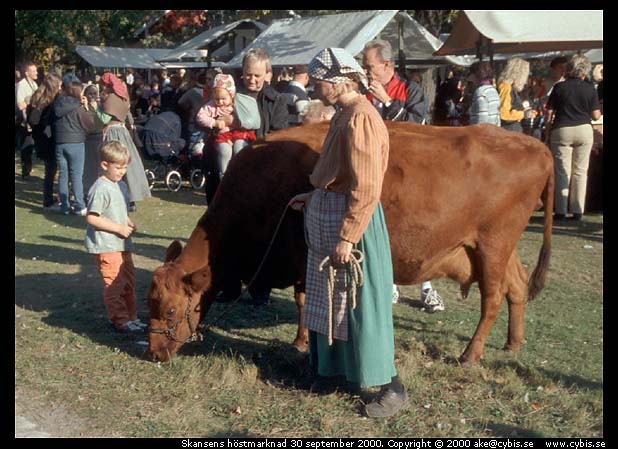 We also enjoyed the visit of a hornless milch cow. (Though she left some places in the grass quite slippery. Some children esteemed that very much and leapt right into it...)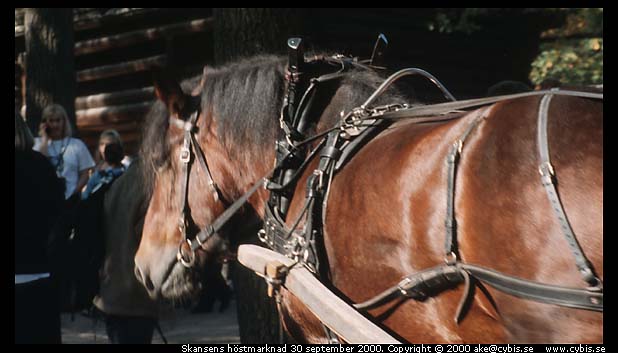 There were also a horse, some pigs and some sheep. The kids had a chance to go by horse and carriage.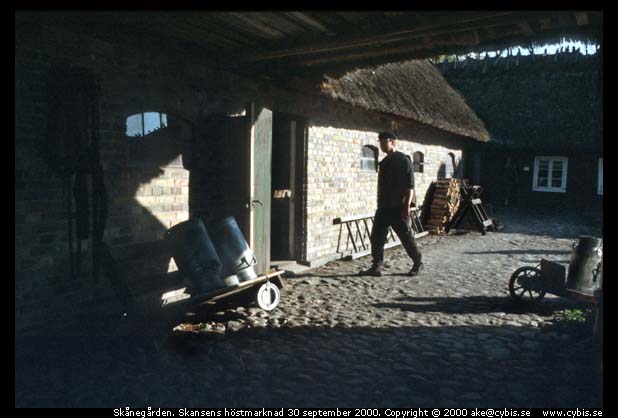 This is the entrance to "Skånegården". In the cow-house to the left it is very quiet. All animals are out.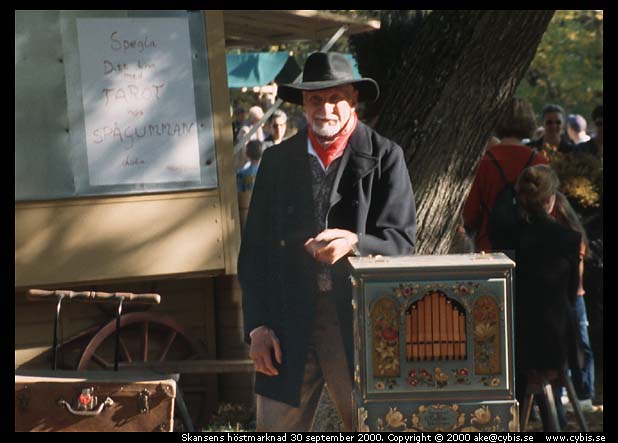 It was such a nice day that we are probably coming back next year! The automn fair at Skansen is getting better every year!
Many thanks to all of you working for Skansen. You gave us a wonderful performance!