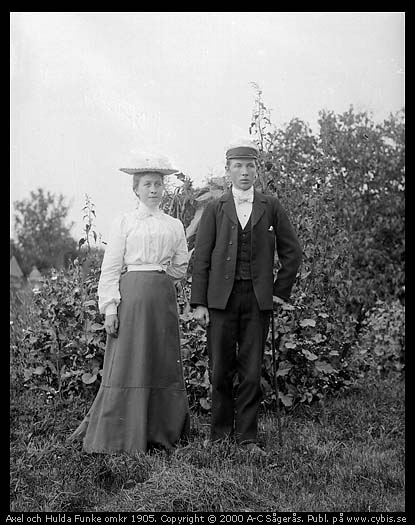 In 1906 Axel and Hulda Funke moved to Nämdö.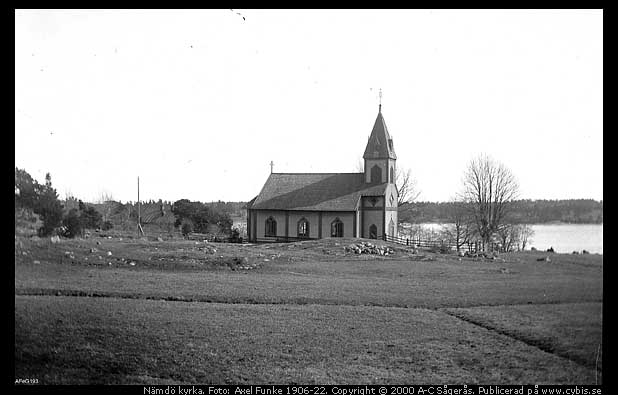 Axel had been engaged as a cantor for the church at Nämdö.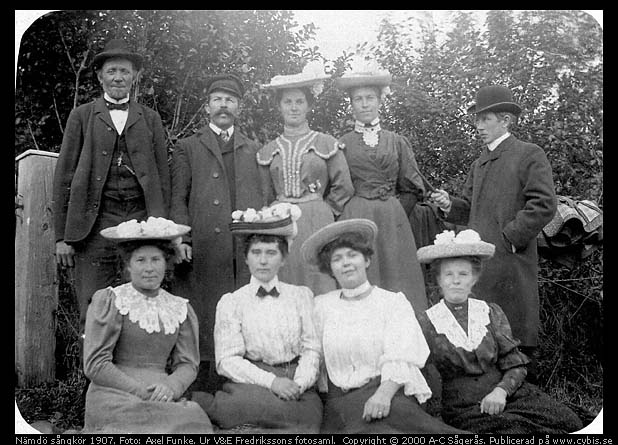 The Nämdö choir in 1907 with Axel Funke (to the right) as the leader.
Rear row from left: Jan Andersson, Emil Öhman, Sigrid Öhman, Vendela Nyström.
Front row from left: Ida Sjögren, Maria Söderling Hamnskär, Ida Lindhal (the maid at the parson's), Hedvig Fredriksson.
(From Valter&Elsie Fredriksson's photo collection.)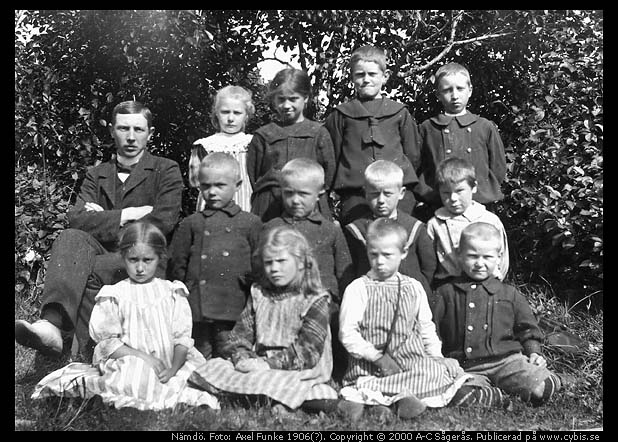 But quite soon, Axel had to start working also as a teacher.
Överst till höger Ragnar Bengtsson Skräckmarn (Sofiehill, Uvö). Längst ner till höger: Nisse Öhman, Orrö.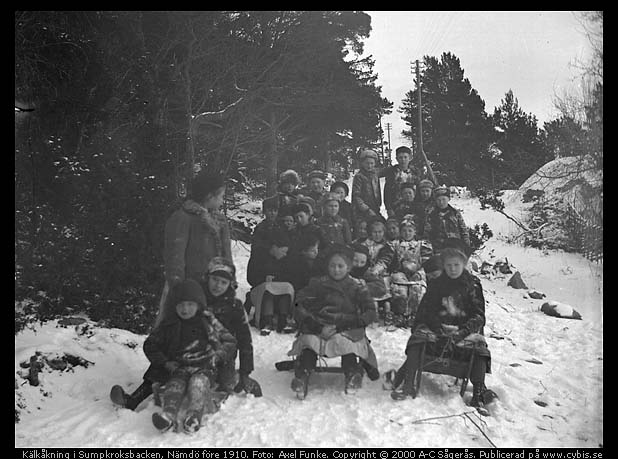 Axel was not only a cantor and a teacher, but he was also an amateur photographer!
Sledging in the downhill at Sumpkroken before 1910.
One of our sources of information, Ivar Gustafsson, told us that he himself has never gone sledging there, but he had gone SKATING there...
Axel with his school children in front of the old school house at Nämdö.
("bakre raden" = rear row, "mittre raden" = centre row, "främre" = front, "fr v" = from left)
Bakre raden fr v: Ragnar Lindström, Erik Hedengren Ekholmen (*1894), Sigfrid Jonsson (*1895), August Nyström, Oskar Karlsson, Arvid Andersson Västerby, Magister Funke
Mittre raden: Alva Malmstedt, Hilma Fredriksson, ?, Märta Sundberg Bergvik, Ester Öhman Bullerö, Augusta Gustafsson Ekholmen (*1894), Lilly Malmstedt Sunnansund
Främre raden: Knut Sandström (*1894), Tor Gustafsson Granparken, Ragnar Bengtsson, Törngren Västerängen, ?, Alfred Björklund Östanvik
Identifierade av Emma Karlsson år 1978 och Ivar Gustafsson, 1988.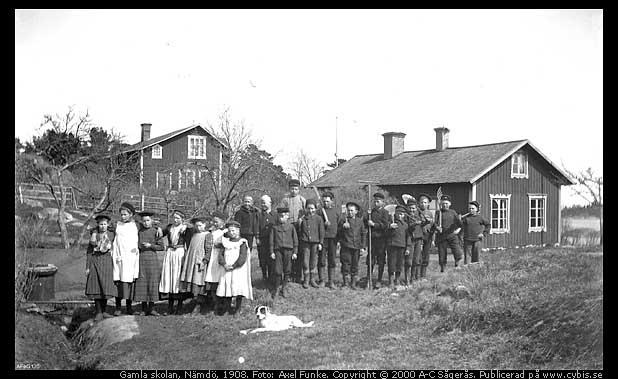 The school children at the old school house at Nämdö 1908.
Fjärde flickan från vänster: Augusta Gustafsson, Ekholmen, sedermera bondmora på Västanvik. Pojken i mitten (storväxt med ljust hår - står nog dessutom på en sten) August Nyström, Jungfruskär. Hunden är Axel Funkes "Tello".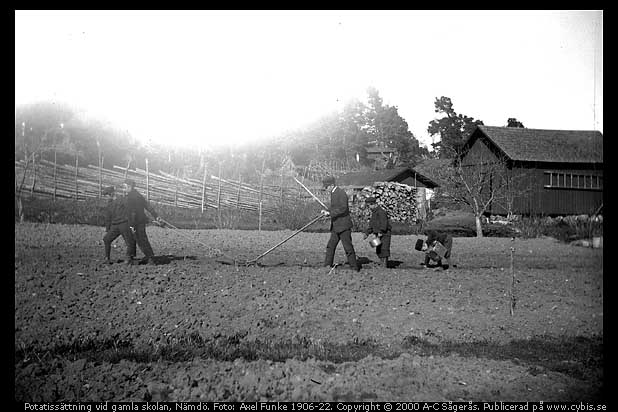 Planting potatoes on the small field just above the old school house.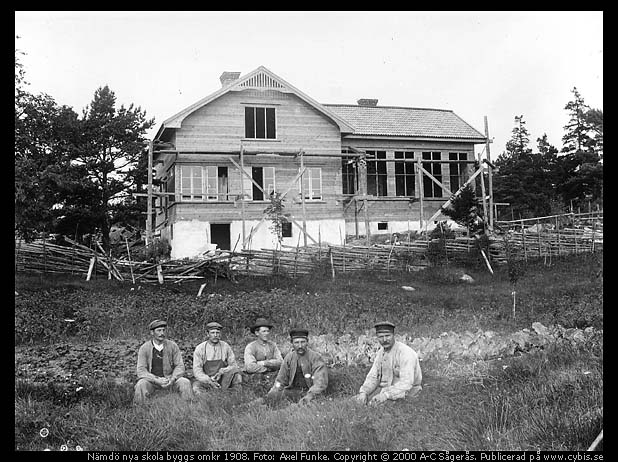 Building the new school house at Nämdö about 1908.
Fr v: George Sjögren, August Sundberg Bergvik, Bernhard Nilsson, Oskar Bengtsson Sofiehill (Skräckmarn), August Bengtsson. Bilden finns i Skärgård nr 22.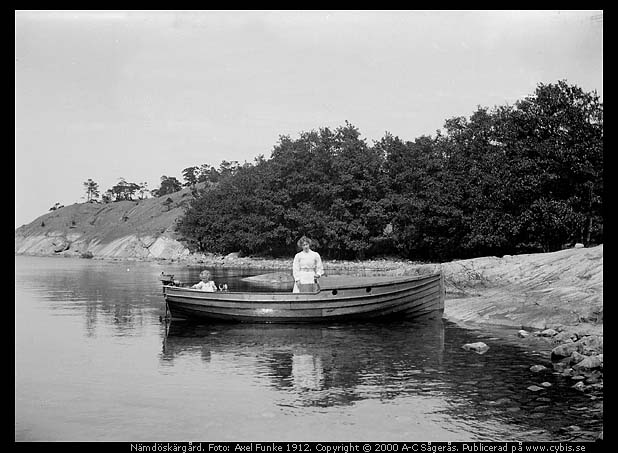 In 1908 Axel's and Hulda's daughter Anna is born. Now Axel starts to take some family pictures. This is on a picnic with their boat "Stina" in 1912.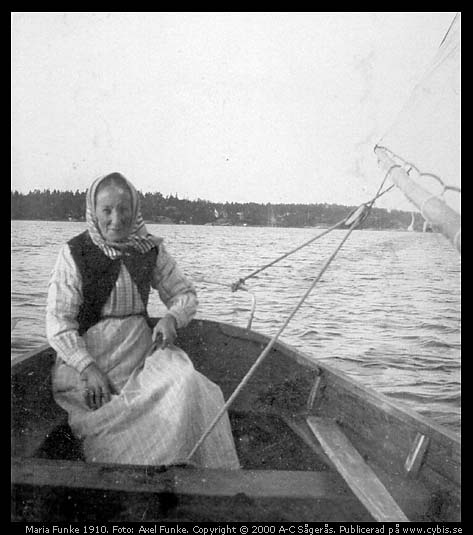 Maria Funke, Axels mother, who had been widowed also moved to Nämdö.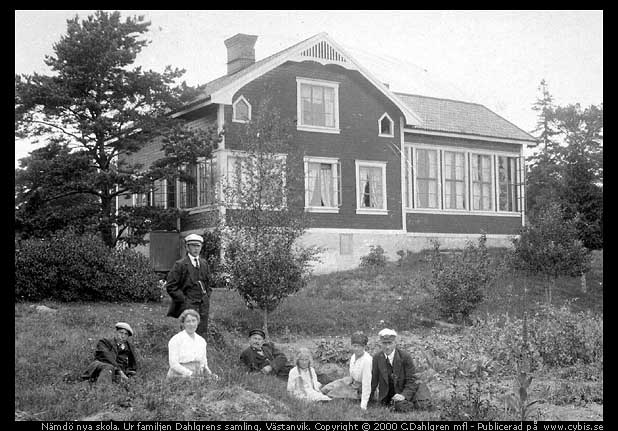 The new school house at Nämdö.
(From the Dahlgren family photo collection.)
The classroom in the new school house with Axel Funke at the teacher's desk.
(From the Dahlgren family photo collection.)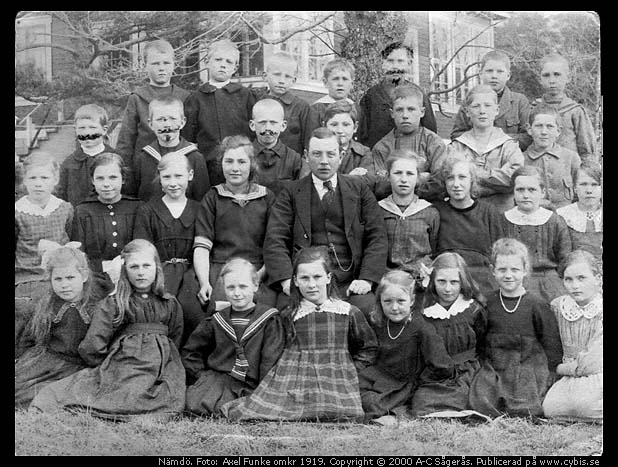 Anna had her father as the teacher. Here she is sitting as the second child to the right of the teacher.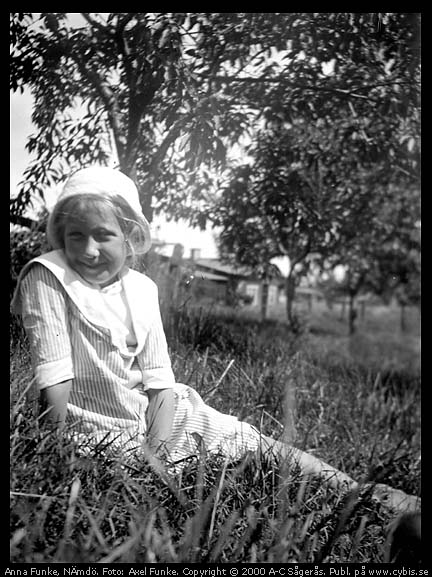 Anna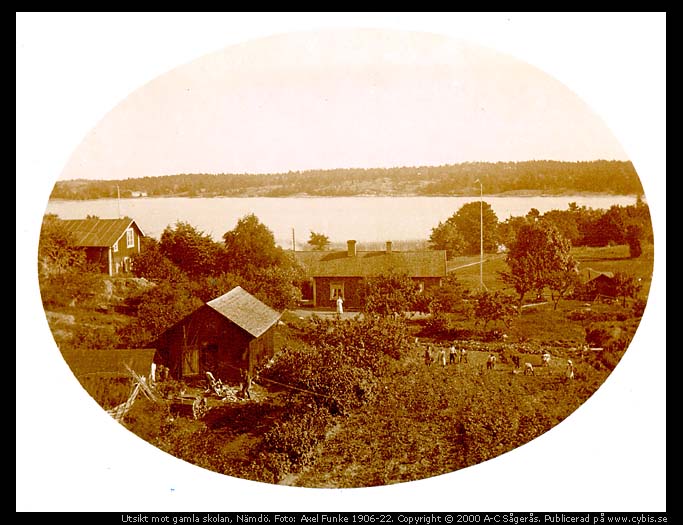 View from the new school house over the old school house with the island of Orrö in the background.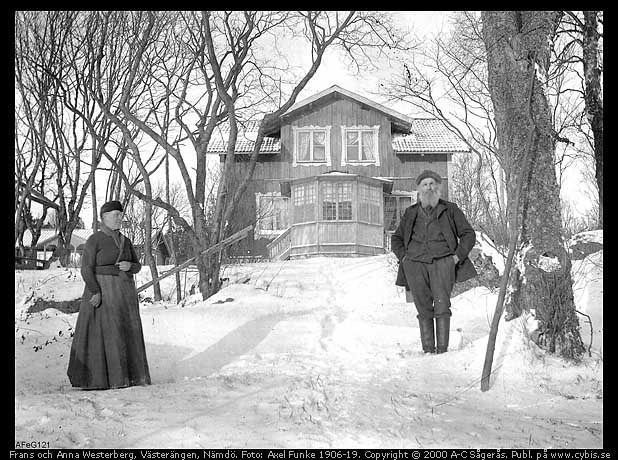 But Axel did not only take photos of school children and his family but also of his friends and neighbours. This is Frans and Anna Westerberg at Västerängen, a nearby farm on the island.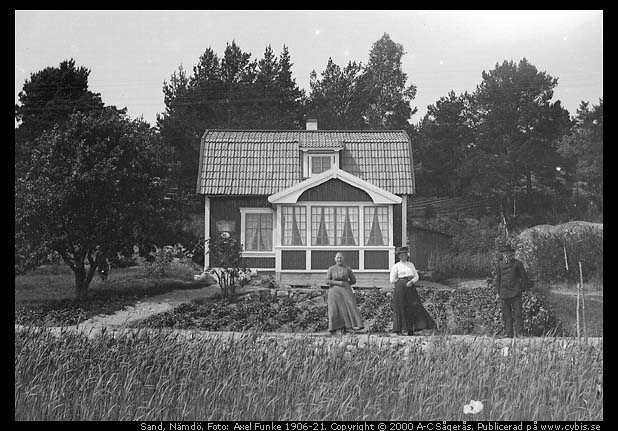 In this house at Sand there was a post office.
Leftmost: Albertina Borgh.
"Mother Fia" or Mrs Sofia Charlotta Sundberg with her children in Bergvik, Nämdö.
From left: Sigrid, Elis, Fia herself, August, Arvid. Arvid emigrated to America where he worked as a carpenter in Chicago.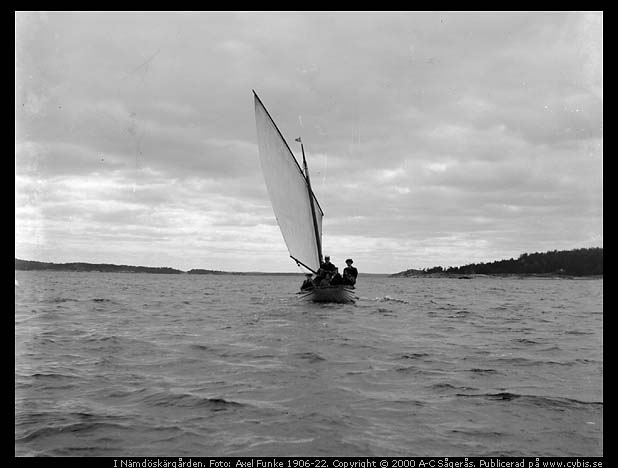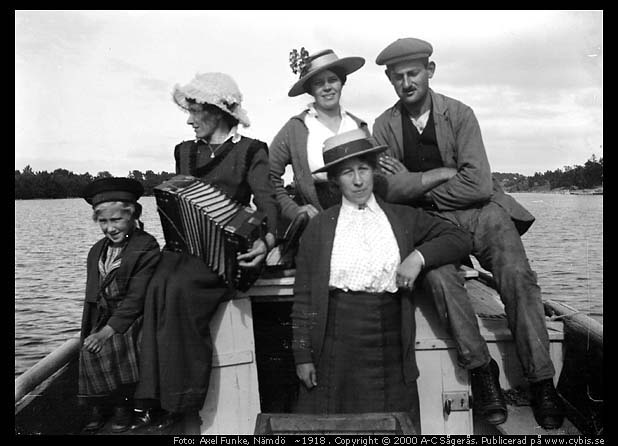 A picnic by boat.
Fr v: Anna Funke, ?, Elsa Gauffin, Hulda Funke, Oscar Karlsson i Krokvik.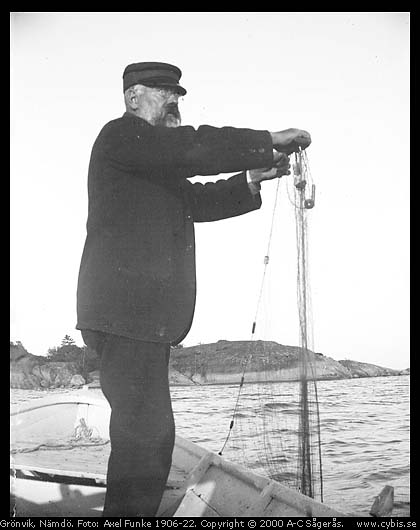 Setting nets at Grönvik.
This is probably a near relative to the Funke family. He is also found on a family picture with Hulda, Anna and Maria.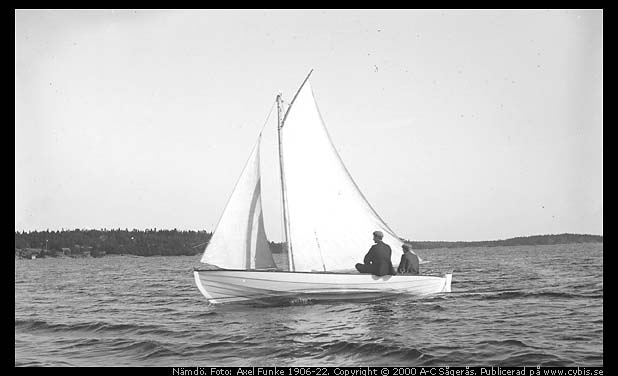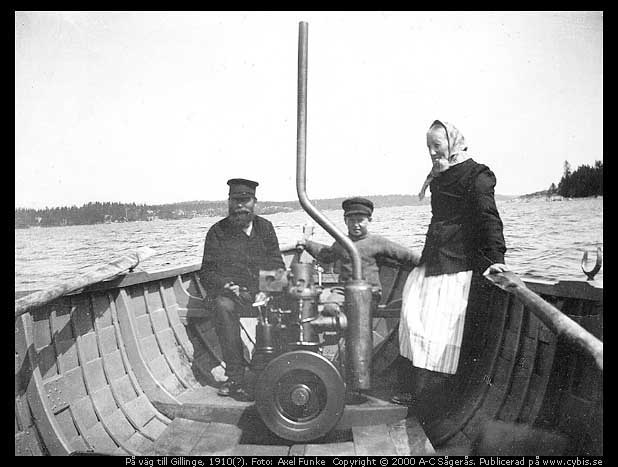 A trip with people from the island of Gillinge.
Kalle Norman with his son Anders and Maria Funke. About 1910.
Inhabitants at the island of Gillinge around 1910.
Bakre raden fr v: 1: Karl Ernfrid Öhman (Själ-Kalle), 6: Karl Norman (Norman i Hemsöborna), 8: Karl-Petter (Själ-Kalles far?)
Främre raden från vänster: 4: Henrika Öhman (gift med Ernfrid Öhman Gillinge och dotter till Lång-Kalle Åkerlund på Bullerö?, 6: Anders Norman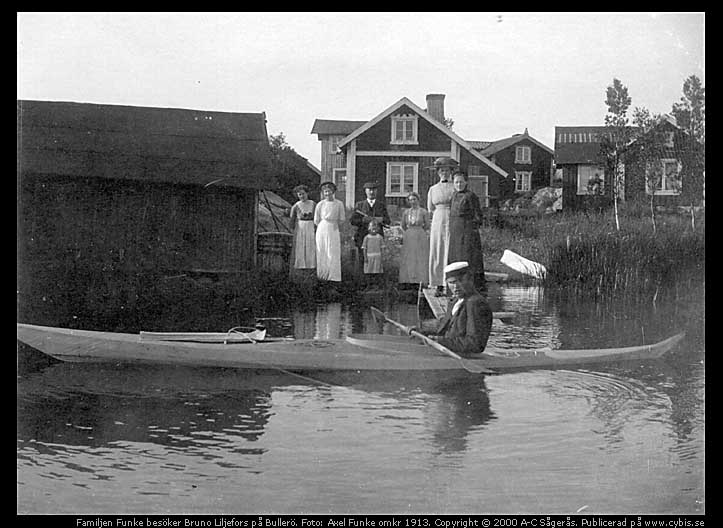 The Funke family pays a visit to the famous artist Bruno Liljefors at the island of Bullerö.
Standing in the middle: Bruno Liljefors and Hulda Funke with her daughter Anna.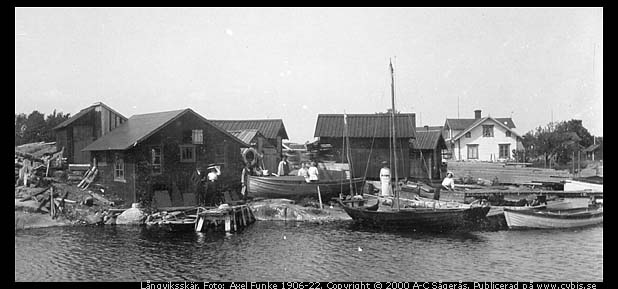 The island of Långviksskär. "Stina" (Axel's boat) blocked up on the shore.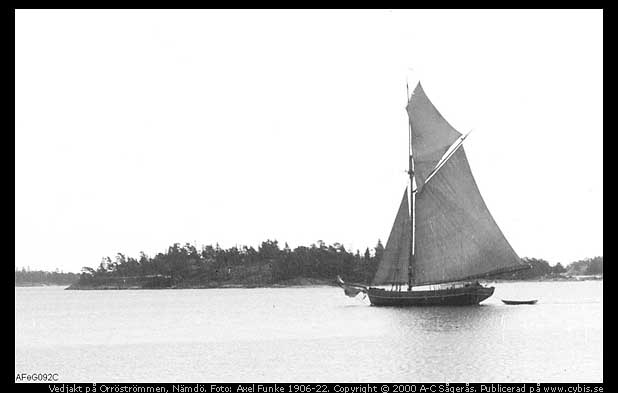 A "firewood yacht" (used for transporting firewood to Stockholm) on the water between the islands of Nämdö and Orrö.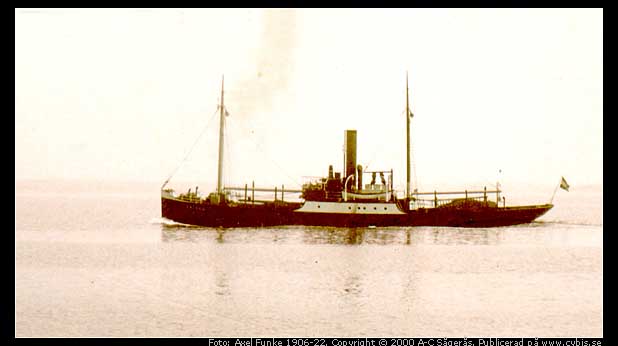 During the first world war. Nationality marks are painted on the sides of the ships because of the submarine war!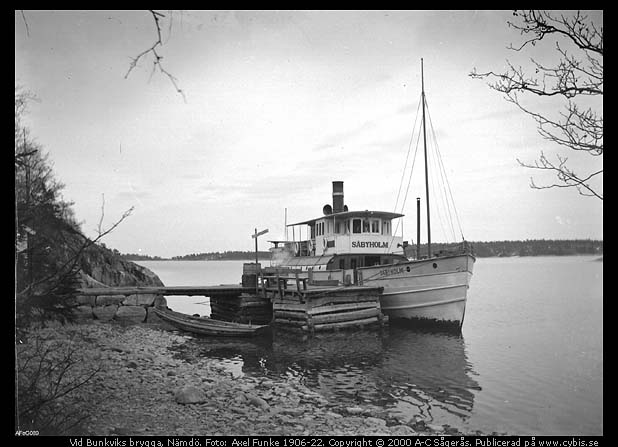 At the Bunkvik dock, Nämdö.
The steam ship "Strömma Kanal" on a winter day just outside the dock at Sand.
Axel Funke himself.
Some dates:
Axel Funke 1881-1944, Maria Funke 1843-1911, Albertina Borgh 1835-1921, Frans Westerberg 1839-1919 (hans andra hustru, Anna, 1855-1942), Sofia Charlotta Sundberg 1851-1937, August Sundberg 1876-1959
I owe many thanks to Ann-Charlotte Sågerås and Jonas Ringholm, who made it possible to publish these photos! I am also thankful to Lars Westerberg at our local museum, Skärgårdsmuseet, who has lent us the glass negatives left by Axel Funke!
Digital imaging: Lars-Åke Larsson. Research into the contents of the pictures: Barbro Arenäs Nilsson and Lars-Åke Larsson and many of our friends. Copyright © 2000, the authors.