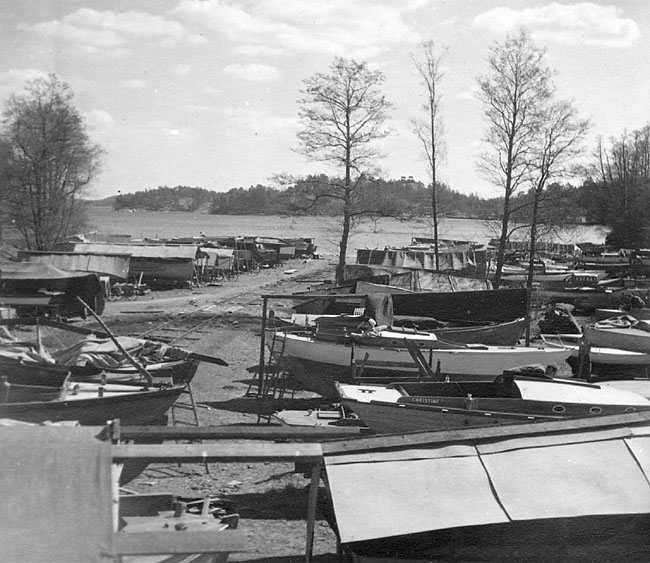 Foto i Tore Regnells samling
This is how I remember our yacht club from the time around 1950...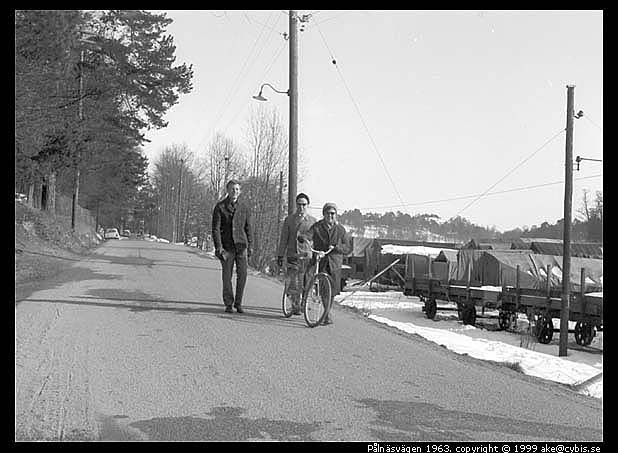 In earlier days there was a railway track along our road Pålnäsvägen running from the depot at Neglinge and down to the pier "Kolbryggan" (the Coal Pier).
When I was a kid that track was used as a parking lot for discared railway trucks.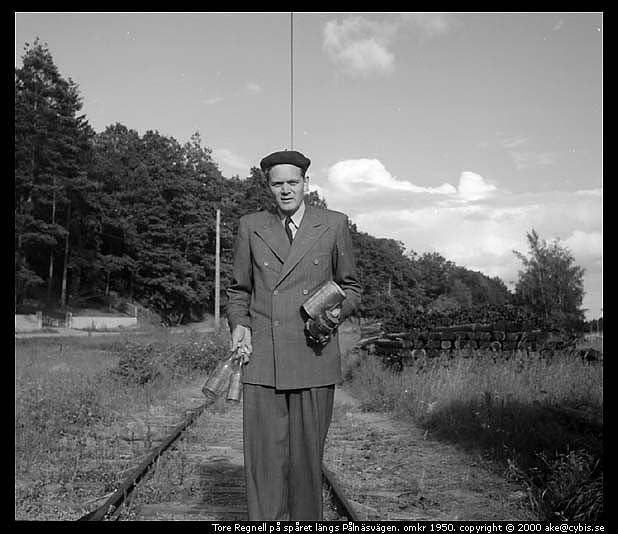 This is Tore Regnell who took most of these photos.
Some years - like here - there were not too many trucks on the track. Then it quickly became a quite popular walk.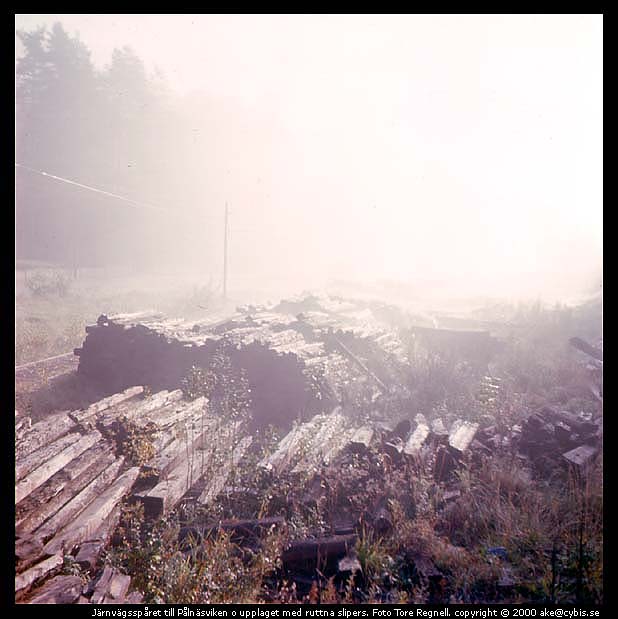 Along the track there were big piles of discarded sleepers.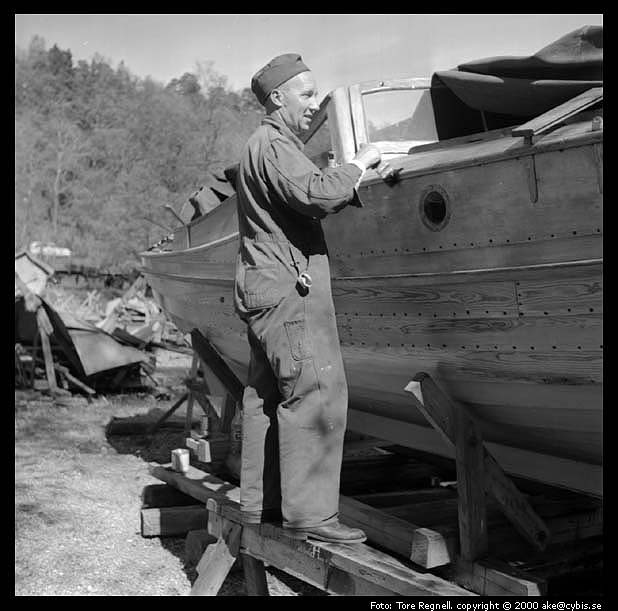 ...and before the time of plastics all boats were wooden boats...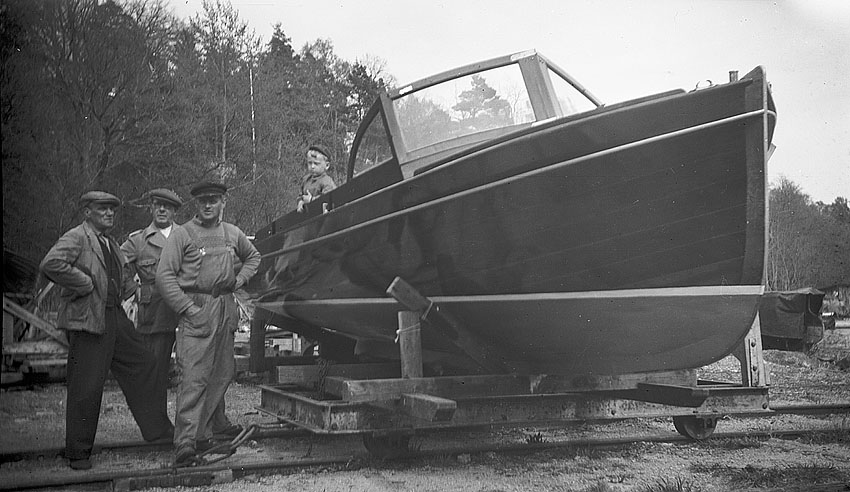 Här skall våran båt sjösättas i Pålnäsviken i Saltsjöbaden, 11 maj 1948.

Stående fr v: Smörjar-Kalle Karlsson, Karl Mossberg (konduktör) och Anders Svan. Det är jag som står uppe i båten. Jag tyckte alltid att det var ruskigt att sitta i båten när den rullade ner i sjön. Men det fick man inte säga. Båten gjorde 10 knop och körde om de flesta andra motorbåtar!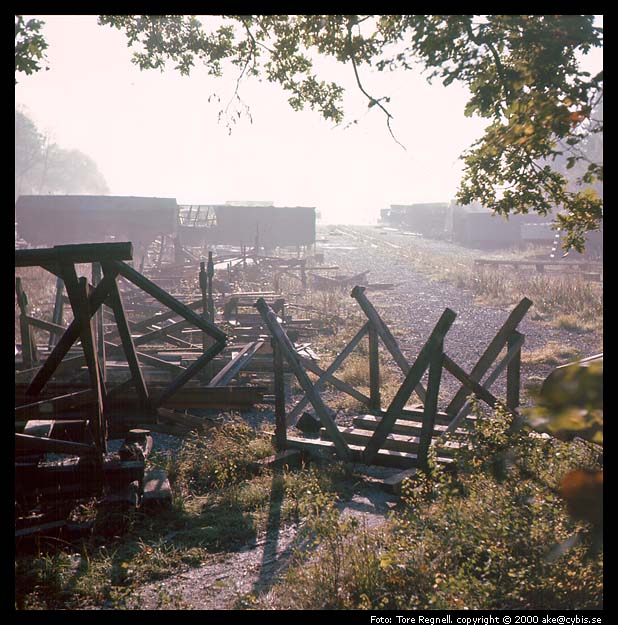 Photo taken from the petrol pier (Bensinbryggan) towards the Coal Pier (Kolbryggan) with its old storage sheds and a shed for storing masts during the winter.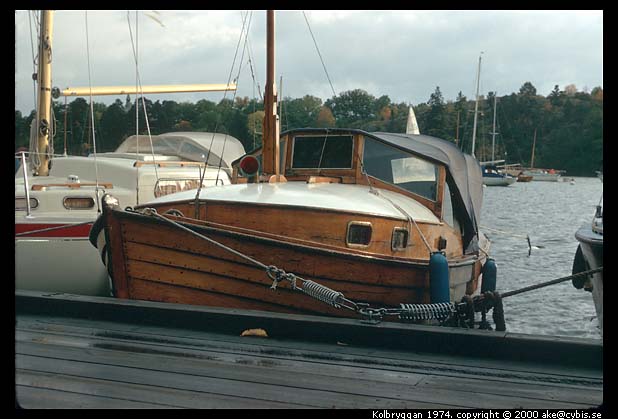 This photo taken in 1974 shows my motor boat "Fia" at the Coal Pier.
"Fia" was bought in 1965 and I owned her for more than 20 years. She had an Albin AL23 motor giving her a speed of 6 knots.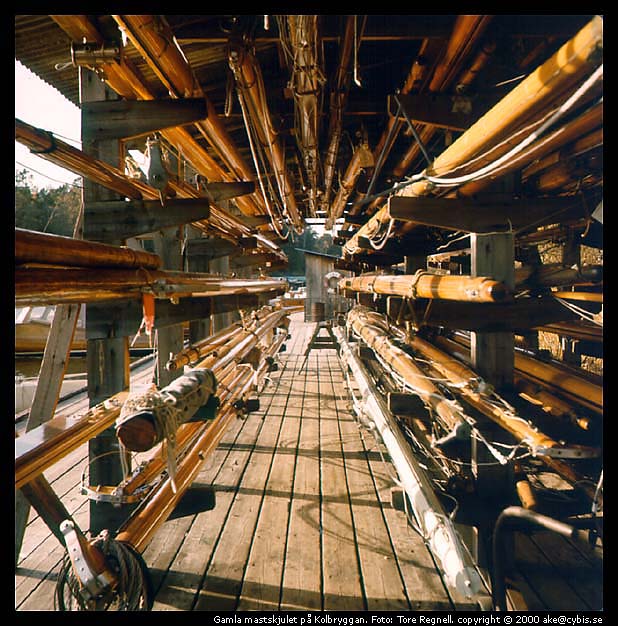 In old days the mast shed was standing on the Coal pier. Wooden masts in all places! From the 1960:ths.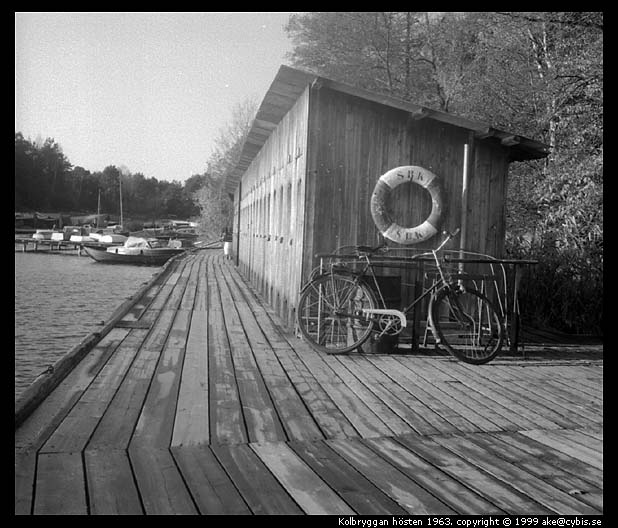 Dads old bike leaning towards the sheds of the Coal Pier. 1963.

In the beginning of the twentieth century boats unloaded coal for the railroad at this pier. Then the deck was higher than today.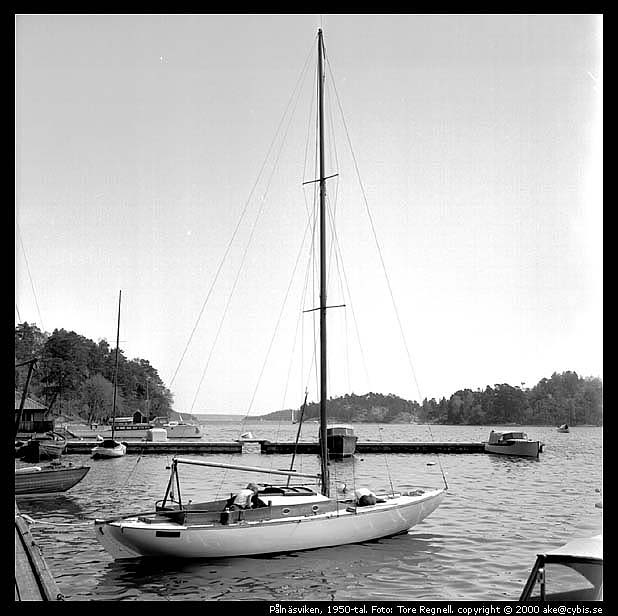 View from the Coal Pier out towards the bay "Baggensfjärden".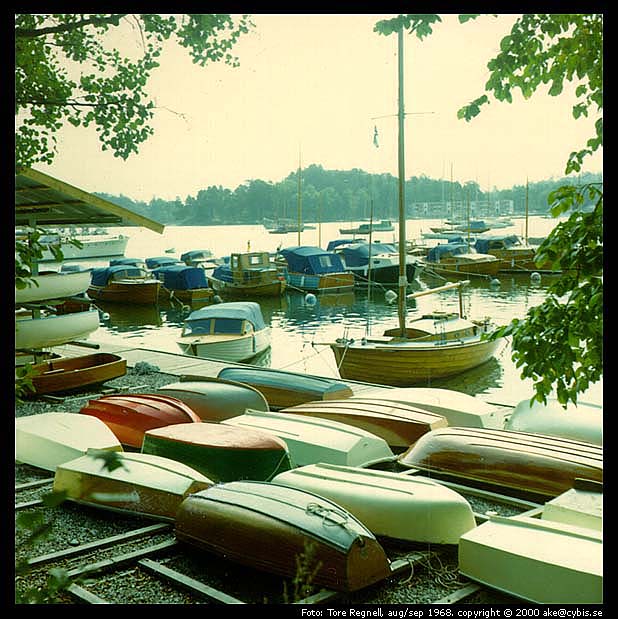 1968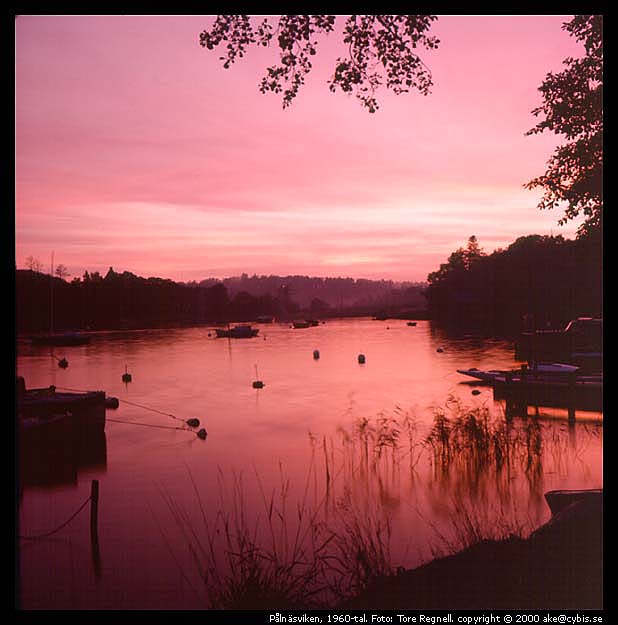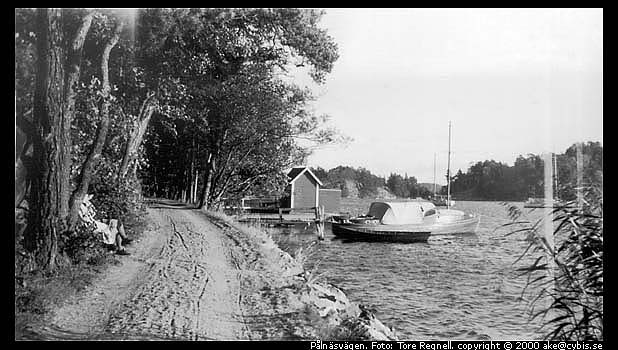 Pålnäsvägen. Today this lane has been widened into a parking lot with a pier along the shore.
In winter...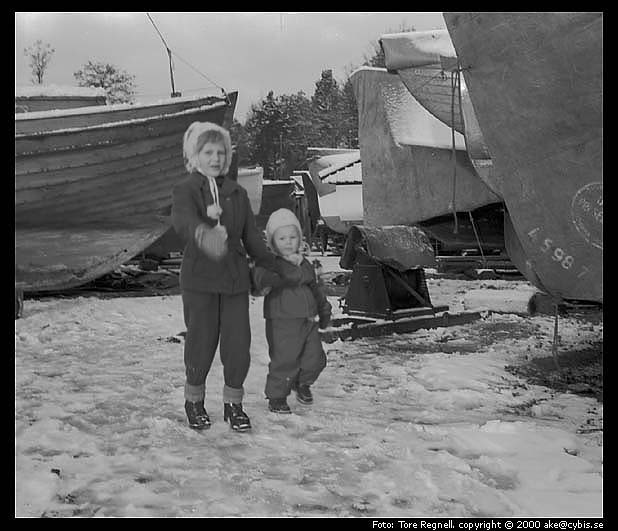 My neighbours Birgitta and Håkan at the yard sometime around 1950.
Snow, heavy linen tarpaulins, wooden boats...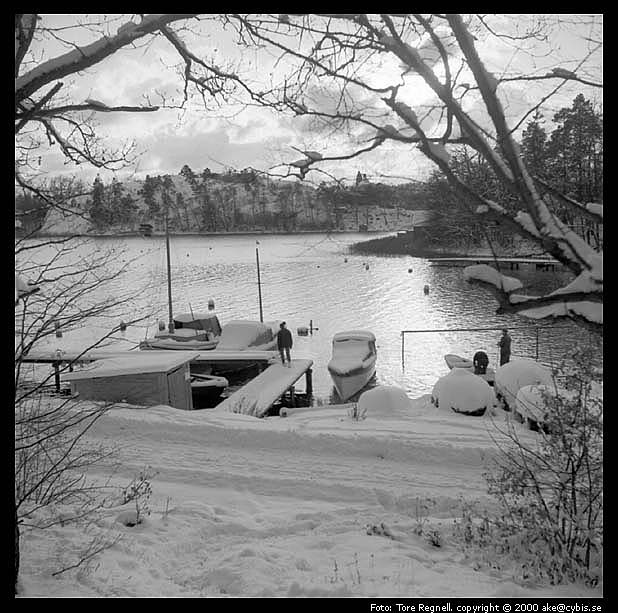 Probably in 1965 when the winter started with snow and very cold weather already in November.
The Coal Pier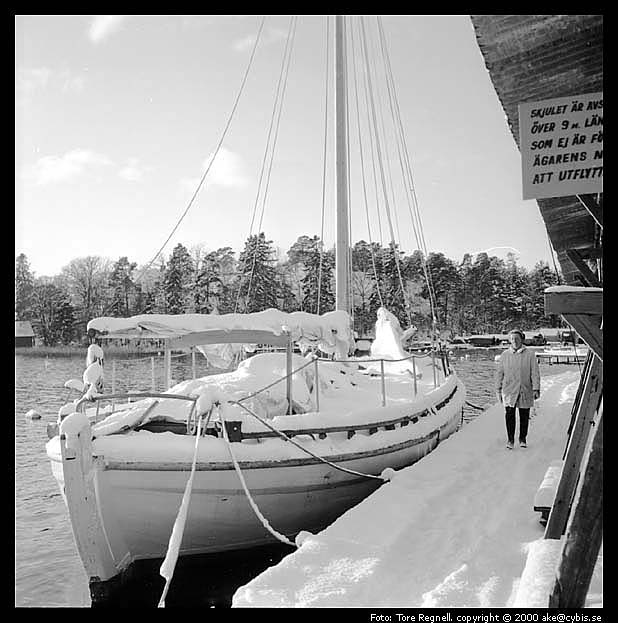 The Coal Pier and an old pilot vessel.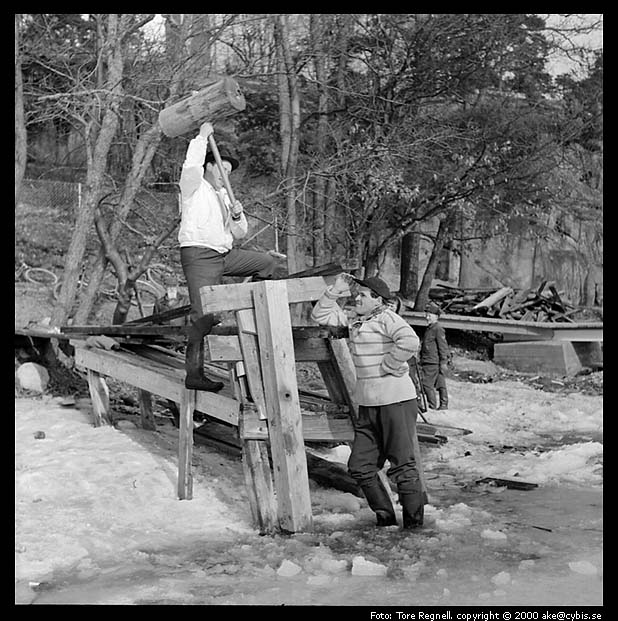 Jag tror bestämt det är min teckningslärare på gymnasiet, Lars Norrman, som står på isen!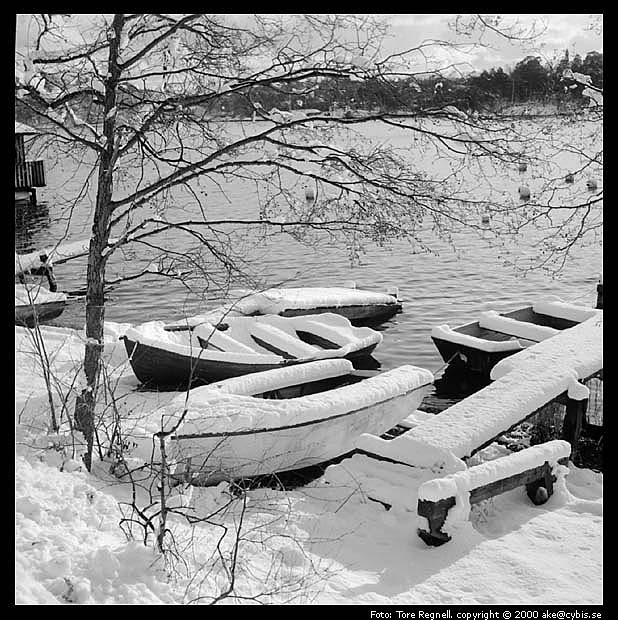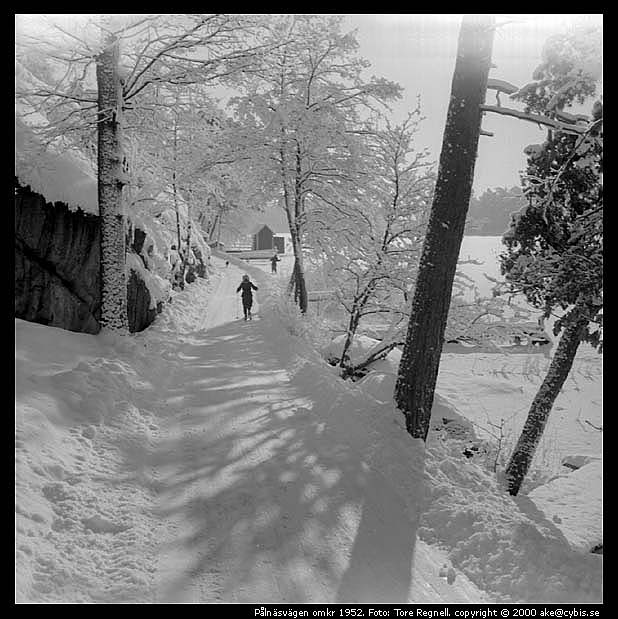 Pålnäsvägen.